How to Use Overstock Coupon Codes?
Got a coupon code? In this section, we explain to you how exactly to redeem your coupon code discount on the Overstock.com website.
1. Browse the product categories on the site to locate the product of your choice. Alternatively, you can use the search bar to quickly locate and select the product you are looking for;
2. Select the quantity you want, and click the 'Add to Cart' button;
3. This will reveal your shopping cart and you can check out at this instance;
4. Click on the green 'Check Out Now' button to check out;
5. You will be asked to create an account, sign into your account, or to continue as a guest. Select an option and continue;
6. If you continue as a guest, you will be direct to the checkout page where you will be asked to fill in your billing and shipping addresses;
7. Below the spaces for entering your payment information, there is a box marked 'Use Promo Code'. Check this box;
8. Checking the box will reveal a space for using a promo code. Do it and your order total will be adjusted accordingly;
9. Submit order and wait for your purchase to be delivered;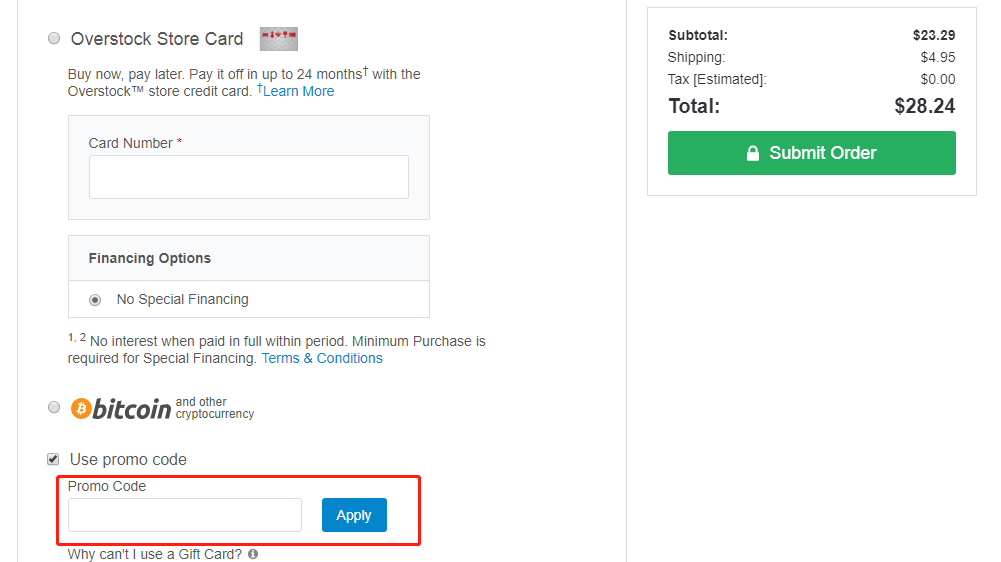 How to Save from Overstock?
Overstock has a special coupons page on the website (www.overstock.com/coupons), where they list the latest deals and special offers. For instance, on the page, you will see monthly offers including discounts for new customers and for orders worth above certain amounts.
The company also has frequent clearance sales on the website. You can save plenty of money by finding the products you need in the clearance sales section that you will also find on the link we have provided above.
Flash deals are also available on Overstock.com. Simply visit coupons page above to find products are significantly low prices.
All these ways to save money are good but there is no better way to save money on Overstock.com than by becoming a member of their Club O Gold loyalty program. This program costs just twenty bucks a year. For this amount, you will get free shipping on all your orders, regardless of how much they are worth. You will also get a 5% reward on every purchase plus other rewards for writing product reviews. Additionally, club members can return products hassle-free and get to enjoy free stock trades.
The loyalty program is free for servicemen and women, first responders, teachers, and students.
Although the program costs money for ordinary folks, it is a great way to save money especially for those who are frequent shoppers.
Overstock Review
Got a coupon code? In this section, we explain to you how exactly to redeem your coupon code discount on the Overstock.com website.
1. Browse the product categories on the site to locate the product of your choice. Alternatively, you can use the search bar to quickly locate and select the product you are looking for;
2. Select the quantity you want, and click the 'Add to Cart' button;
3. This will reveal your shopping cart and you can check out at this instance;
4. Click on the green 'Check Out Now' button to check out;
5. You will be asked to create an account, sign into your account, or to continue as a guest. Select an option and continue;
6. If you continue as a guest, you will be direct to the checkout page where you will be asked to fill in your billing and shipping addresses;
7. Below the spaces for entering your payment information, there is a box marked 'Use Promo Code'. Check this box;
8. Checking the box will reveal a space for using a promo code. Do it and your order total will be adjusted accordingly;
9. Submit order and wait for your purchase to be delivered;